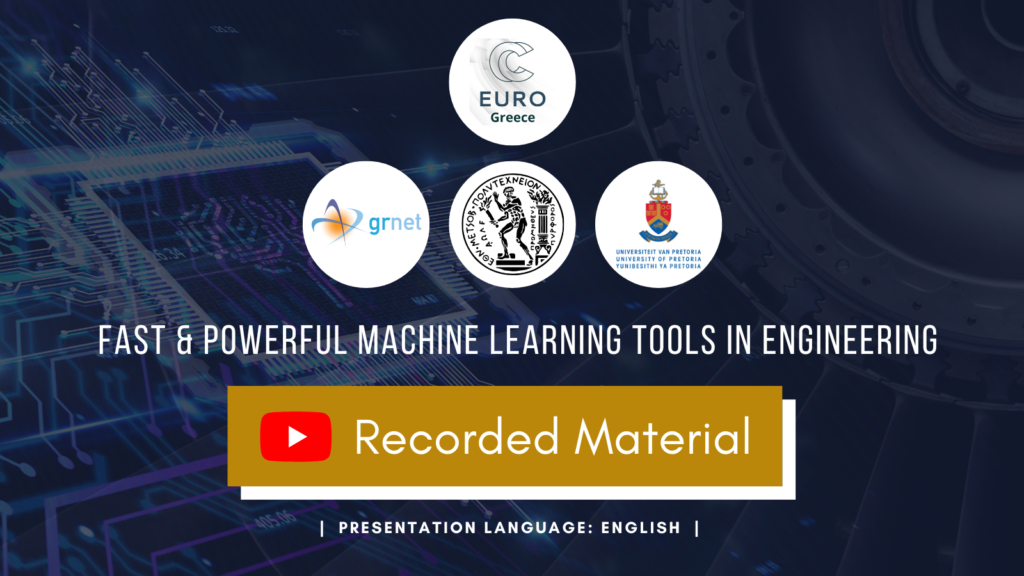 The "Fast and Powerful Machine Learning Tools in Engineering: Hands-On Applications"  Online Workshop by EuroCC@Greece in partnership with the National Infrastructures for Research and Technology (GRNET), the National Technical University of Athens (NTUA) and the University of Pretoria (UP) was successfully held online, on 11/5/2023.
121 online attendees were provided with hands-on examples of applying Machine Learning in Datasets derived from Extended FEM Analyses and data obtained from numerical results.
If you missed the opportunity to participate in the event, you can still benefit from the information shared, by accessing the recorded material shared on EuroCC@Greece's YouTube channel here.
Moreover, visit and subscribe to EuroCC@Greece's YouTube channel to watch HPC-related videos, as well as recorded material from previous EuroCC@Greece events you may have missed.
Stay tuned for future events and news, subscribe to our Newsletter here and follow us on social media (Twitter, LinkedIn, YouTube).