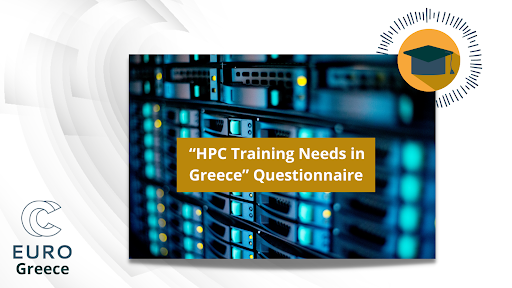 EuroCC@Greece is one of the 33 HPC Competence Centres, built in the framework of the European High Performance Computing Joint Undertaking (EuroHPC JU).  The aim of EuroCC is to advance competitiveness in research, improve effectiveness of government services and promote innovation in industry.
In order to implement this objective, we will design and deliver training activities in order to address the different user needs, enabling them to scale up their HPC workloads and enhance their HPC competencies.
The results from the Questionnaire "HPC Training Needs in Greece" will help us identify and understand the distinct needs of the Greek HPC users as well as those that want to become HPC users and create training portfolios for the coming years, enhancing High Performance Computing in Greece. The survey is anonymous and no personal identity information is required.
Your participation is important. Let's co-create together the future HPC training events in Greece!
Take part in the "HPC Training Needs in Greece" Questionnaire here.