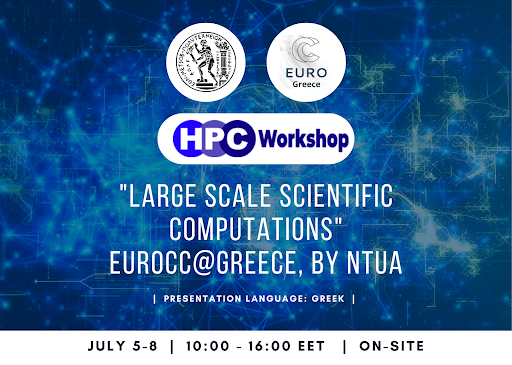 EuroCC@Greece announces the HPC Workshop "Large Scale Scientific Computations", by the National Technical University of Athens (NTUA), on July 5-8 2022, at 10:00-16:00 PM (EET), which will be held on-site at the PC-Lab of NTUA 's School of Chemical Engineering.
The workshop aims to introduce participants to large-scale calculations using parallel programming via training with hands-on examples. Moreover, special emphasis will be given to code parallelization, capable of utilizing clusters.
Target audience: postgraduate students and PhD candidates dealing with scientific calculations requiring processing speed and significant memory space
Workshop Location: NTUA School of Chemical Engineering (PC-Lab)
Participation cost: Free of charge
Language: Greek
The main topics of the Workshop are:
the SPMD (Single Program Multiple Data) parallel programming model and how it is implemented using the communication protocol MPI (Message Passing Interface),

the operation and architecture of GPUs (Graphics Processing Unit) as well as their use for large-scale computing through the parallel computing platform CUDA (Compute Unified Device Architecture) and

the parallel programming with OpenMP which enables serial programs to be parallelized using compiler directives.

Prerequisites
Familiarity with Linux

Basics/principles of programming (C or FORTRAN is preferred).

Apply until June 17th here.
More information about the Workshop here.